Ghost Kitchens Have SURGED in Popularity During the Pandemic: Here's Why
COVID-19 has caused industry disruption the world over, with many businesses forced to cut down operations or even close. The restaurant and kitchen industries are no different and have experienced losses and hardships as well. One model of kitchen however, has become something of an industry disruption during the pandemic – ghost kitchens. What makes them so great in a time like this?
We here at Famous Dave's BBQ, a franchise that uses ghost kitchens ourselves, are gonna let you in on why!
What are ghost kitchens?
Ghost kitchens are a type of kitchen that prepares and cooks food to make delivery-only meals. Ghost kitchens aren't necessarily restaurant brands, and can sometimes have the space and facilities for more than one restaurant brand.
This type of kitchen has the needed equipment and facilities to make meals, but takes up a lot less space than a restaurant because there is no dining area for customers to walk into. Ghost kitchens came about because the demand for restaurant delivery meals was growing, and something had to be done to meet that demand. 
Ghost kitchens can allow restaurants that are already established to have the opportunity to expand their delivery operations without the headache of changing anything about their existing kitchen. Ghost kitchens also mean that delivery vehicles don't need to take up restaurants' precious parking spots, and new delivery areas can be added with reduced costs.
There are some myths about ghost kitchens. Unlike some may fear, they aren't some sketchy sort of discount kitchen, they're a true-blue professional environment. They're held to high standards, have real chefs, and are clean, efficient, and make great food. For example, a customer who orders from a Famous Dave's ghost kitchen can expect to receive the same outstanding BBQ, award-winning sauces, and made-from-scratch sides they know and love from our full-service restaurant locations!
Why are ghost kitchens thriving in the pandemic?
Opening a ghost kitchen is not only far cheaper than investing in a traditional casual-dining restaurant but so is running it day-to-day! Since there isn't a dining area and therefore no wait staff, ghost kitchens have higher profit margins because their overhead is so much lower. The takeout/delivery model that ghost kitchens employ also means that they are unaffected by lockdowns and quarantines, and can stay open and in business when other restaurants are forced to shut their doors. On top of all of that, ghost kitchens are also often located in places that have far lower rent than the places where the restaurants are and occupy far less space than a restaurant would, so a lot of money is saved on rent as well.
In a time where business is greatly reduced by customers wishing to save money, this is all great news! 
Food delivery is rising in popularity and seems to be here to stay, unlike dining in at a traditional restaurant, which still has yet to return to its pre-pandemic glory. Because there is no dine-in option, ghost kitchens have a very streamlined workflow and can focus on delivery orders, allowing chefs to get reduce waste, maximize the use of space and workflow, and even test new menu items with reduced risks. 
Ghost kitchens don't need to spend time and money clearing tables and disinfecting surfaces after customers dine in, unlike traditional restaurants, and that means time is spent solely on preparing, making, and sending out food. This makes them highly productive. 
Customers also have a high level of flexibility and control over their orders because they can choose and personalize their meal exactly as they'd like. Ghost kitchens are also providing customers with access to new restaurants that would otherwise have been out of their area or unavailable for home delivery. 
That flexibility extends beyond customers' specific orders because ghost kitchens can also respond and adapt to changing market conditions quickly.
Ghost kitchens don't have to worry about changing their entire model to suit these unprecedented times. They're already well-equipped to handle them, and are fortunate enough to be practically perfect for everything the pandemic throws at us, just by virtue of how they function!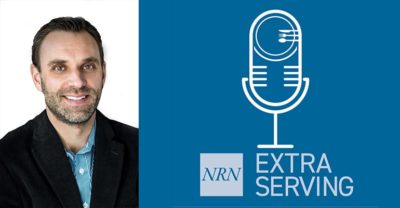 Famous Dave's CEO Jeff Crivello discusses smart investing in ghost kitchens in this podcast episode of NRN's Extra Serving. LISTEN NOW
Our ghost kitchens are "Famous," and SO ARE WE!
They don't call us "Famous" for nothing! Famous Dave's BBQ is America's longest-running BBQ party, with franchise locations nationwide serving up our classic made-from-scratch sides, award-winning sauces, and, of course, the authentic pit-smoked BBQ that made us famous in the first place.
Our pitmasters rub meats with our custom spice blend by hand and cook them for hours in a live-wood smoker that uses genuine hickory logs. All this to make sure that you get those wonderful, natural flavors. Then, they're grilled to make sure the sauces caramelize so there's a sweet chargrill on the outside and a whole lotta smoky flavor on the inside! We go to great lengths to serve fresh food because that's how we show that we're passionate about what we do.
That passion started with our Founder, 'Famous' Dave Anderson, who spent more than 20 years perfecting his sauce! And that hard work sure paid off, because in 1995, Famous Dave's earned a blue ribbon in the 'Best BBQ Sauce in America' contest at the American Royal International Barbeque Contest. And that was just the beginning. Since becoming a franchise, Famous Dave's has now grown to an impressive 100 units in 32 states, with restaurants in Puerto Rico, Canada, and the United Arab Emirates.
We use the highest quality meats and the finest selection of seasonings. Our award-winning sauces just seal the deal. We love our Franchise Owners and they love their job. Our food is made with love, and all our joints have a fun feel that's great for the whole family. 
If you're interested in being a part of America's most famous BBQ where we're proud of our family-friendly, convenient and easy, perfected catering program, then come visit us at our franchise website for more info.
Get Famous in your news feed: Like us on Facebook. Follow us on Instagram. Connect with us via LinkedIn. Follow us on Twitter. Subscribe to our YouTube channel.