The Future of the Restaurant Industry is HERE! Take a Look at Our Ghost Kitchen Franchise 
While "ghost kitchen franchise" might be a term you've never heard before, they're cropping up all over the United States. As quiet as an actual ghost, these innovative, industry-disrupting franchise models have been rising in popularity since the beginning of the pandemic. That's right, ghost kitchens are a restaurant concept that's finding actual success during a global crisis!
While many restaurants have closed down during the past year due to COVID-19, ghost kitchens are alive and thriving because of their unique business model. Gone are the days of happening upon a new restaurant by walking around, now we live in a world where people find new restaurants online and that's a good thing.
By investing in a ghost kitchen franchise with Famous Dave's, you'll be investing in owning a restaurant in the most innovative and sustainable way possible. If you've always dreamed of owning a restaurant, then this is the pathway to make your dreams a reality. A perfect intro into the restaurant industry and resilient to catastrophe, ghost kitchens are the investment that keeps on giving.
Best of all, Famous Dave's new ghost kitchen franchise concept is just one of several exciting BBQ franchise models available to qualified investors who want to capitalize on what is sure to be a resurgence in the restaurant industry as the pandemic comes to an end. Franchise Owners can invest in a Famous Dave's ghost kitchen model along with a traditional dine-in restaurant or one of our QSR models for a flexible, scalable way to increase revenue across the board starting now and extending into the future.
What is a Ghost Kitchen?
We know, a "ghost kitchen" sounds pretty spooky, like something you'd see at a haunted house, but we're going to let you in on a little secret: no actual ghosts are employed at a ghost kitchen franchise! (For now, anyway. We're pretty open-minded, though.) Also, while the name "ghost kitchen" might sound as if it's made-up, we assure you that the food that comes out of it is 100% real!
Otherwise known as Shadow Kitchen, Dark Kitchen, and sometimes Smart Kitchen, ghost kitchens are appearing all across the nation. A Ghost Kitchen is a restaurant that shares a kitchen with another establishment. The Ghost Kitchen operates 100% virtually from ordering to pick up or delivery. Everything is done via online ordering and third-party delivery services like UberEats or Doordash. 
This business model allows for less time spent running food and working dine-in services and more time for cooking quickly and efficiently. Without the cost of a full-service restaurant, the profit margin is high and the overhead is ridiculously low. It's literally the best of both worlds. 
How Does a Ghost Kitchen Work?
Most ghost kitchens operate through online ordering either through their own website or through a delivery service app. Some ghost kitchens share a kitchen with an established restaurant while others are located in mobile shipping container kitchens. In either scenario, the ghost kitchen capitalizes on the increased need for take-out and delivery. 
Successful chains such as Famous Dave's BBQ have made headlines by sharing a kitchen with Granite City Food and Brewery. Available for take-out only, the notorious Famous Dave's sends the smell of BBQ wafting through the air enticing those around to pick up the phone and order. You can read more about Famous Dave's new Ghost Kitchen here. 
The Benefits of Opening a Ghost Kitchen Franchise
The list of benefits of opening a ghost kitchen franchise goes on and on, particularly with a nationally-known and loved franchise like Famous Dave's. With the ability to test out new cuisines, increase safety during a global pandemic, and give employees more hours with reliable pay, it's no wonder ghost kitchens have taken off so quickly. 
The jury is in on ghost kitchens and they have been deemed a strong investment. Gaining in popularity during a global pandemic is a sure sign of a reliable business. If you're still not sure, consider these factors.
Sustainable
Because ghost kitchens aren't affected by shelter-in-place orders or limited indoor dining capacities and aren't responsible for maintaining a brick-and-mortar restaurant they are the most reliable food-service investment ever introduced. They are absolutely changing the restaurant game and getting on board now could be the key to achieving your franchise ownership dreams.
Essentially crisis-proof, ghost kitchens have proven themselves sustainable through one of the toughest years our nation has seen in decades. In fact, they proved they're not only sustainable, but they're also lucrative. Not to mention Ghost Kitchen's are providing jobs for those who would otherwise be sinking below the poverty line during these trying times. 
Low Overhead
Since there is no restaurant maintenance, waitstaff, busing, menus, dishes, and dine-in area, the costs of owning a ghost kitchen franchise restaurant are extremely low by comparison. This frees up more of the budget for experienced chefs and higher-quality ingredients. Customers are enthralled by trying out something new and ghost kitchens provide that opportunity. 
High Profit
With food delivery increasing a whopping 500% faster than dine-in over the past five years, even partnering with a delivery service such as Doordash or GrubHub will be a slight cost compared to the profits of the Ghost Kitchen. Based on recent sales, Euromonitor estimated ghost kitchens could top $1 trillion in revenue by 2030. 
Wildly Popular
While ghost kitchens were already gaining traction in 2019, as the pandemic suddenly hit ghost kitchens became even more popular than ever. Customers flocked to online ordering to finally have one normal thing delivered to their door. When the most exciting thing to do became ordering take-out for dinner, ghost kitchens were there to answer the call. 
Is a Famous Dave's Ghost Kitchen Franchise Right for You?
Ghost kitchens have proven themselves to be a worthy investment that can stand through disaster and more. They are sustainable, low cost, and high profit. What's not to like? If you have been considering becoming a Franchise Owner but have been waiting for the right time, then wait no longer. The time is now.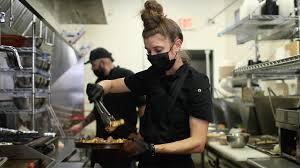 For an incredible opportunity to partner with a successful ghost kitchen franchise, Famous Dave's is looking for partners just like you! While the market is hot, why not jump right in? Famous Dave's Franchise Owners are overwhelmingly happy with their partnership and love the authenticity of good BBQ made right. 
For more information on how to become a Franchise Owner with Famous Dave's BBQ, either by investing in a ghost kitchen franchise or in one (or more!) of our other highly-scalable concepts, visit our franchise website and start your journey to restaurant success today!
Get Famous in your news feed: Like us on Facebook. Follow us on Instagram. Connect with us via LinkedIn. Follow us on Twitter. Subscribe to our YouTube channel.