From Backyard BBQ to Award-Winning Restaurant Franchise:
The Famous Dave's Story
Imagine turning your passion for mouthwatering barbecue into a successful restaurant franchise that's known throughout the United States. For Famous Dave's Founder Dave Anderson, creating delicious, authentic BBQ for friends and families to share together is more than a career- it's a calling!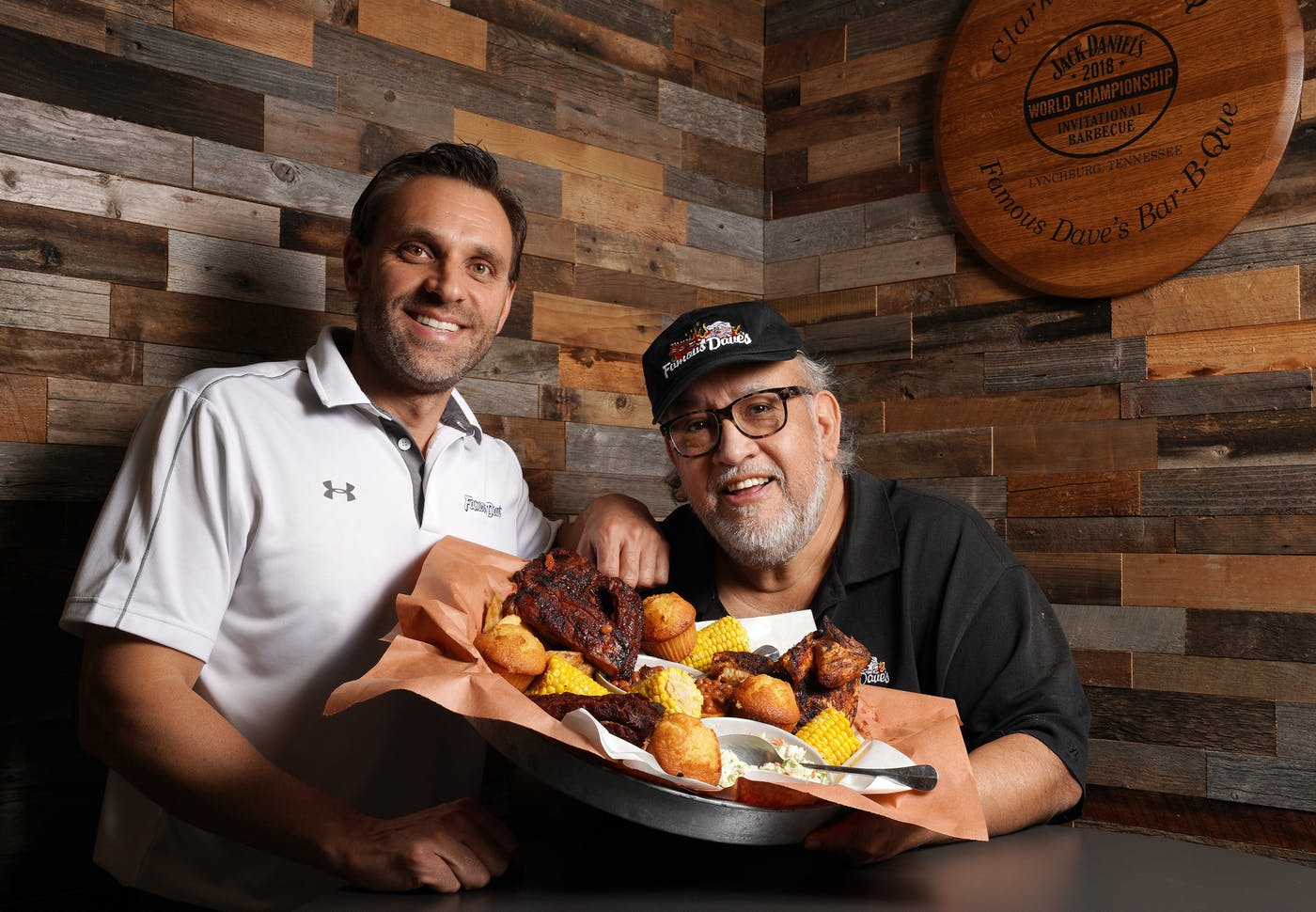 Although he's always made spectacular barbecue, the path for Dave wasn't always smooth. Initially, he remarks, people in his home community of Hayward, Minnesota, laughed at him. Today, his restaurant franchise has more than 130 locations in 33 states and three countries. A 2019 Star Tribune interview with Dave and Famous Dave's CEO Jeff Crivello discussed Dave's story and the duo's plans for the brand moving forward.
Dave Anderson Famous Dave's BBQ
Cooking Up Something Special
When Dave Anderson started his first BBQ restaurant in Hayward, California 25 years ago,  people told him that, "barbecue wasn't an upper Midwestern thing." As Dave puts it, "People would drive up and say, 'What are you doing?' […] There's nothing but Swedes and Norwegians up here in Hayward. Nobody knows what a barbecue joint is here". However, by the end of the first summer in business, he knew he had proved his skeptics wrong, serving almost 6,000 people a week in a town of 2,000 people! Today, his Famous Dave's restaurant franchise is renowned across the country with a growing international reputation. 
Running a Successful Restaurant Chain
What's caused this unprecedented BBQ restaurant success, one may wonder? First of all, a damn good barbecue recipe that has remained consistent over the past 25 years. But also, being able to adapt to trends and understanding the customer base.
"Competition has become brutal in the last ten years," remarks Famous Dave's CEO Jeff Crivello. "We've added turkey, doughnuts, salads, bowls, and Beyond Meat to cast a wider net. We're trying to attract a lower age demographic. They're the ones buying the non-barbecue items. But we have core items that we don't mess with called the third rail — ribs, brisket, and corn muffins".
As the trends of the newer generations seem to be changing, Famous Dave's menu also evolves to cater to them. At the same time, it keeps the menu items that it has become known for, continuing to satisfy the needs of customers who have been coming to Famous Dave's BBQ restaurant for years. By adapting to both the needs of incoming consumers AND its classic consumer base, the restaurant franchise primes itself not only for higher profits but for future success and expansion.
More Than Just a Restaurant Franchise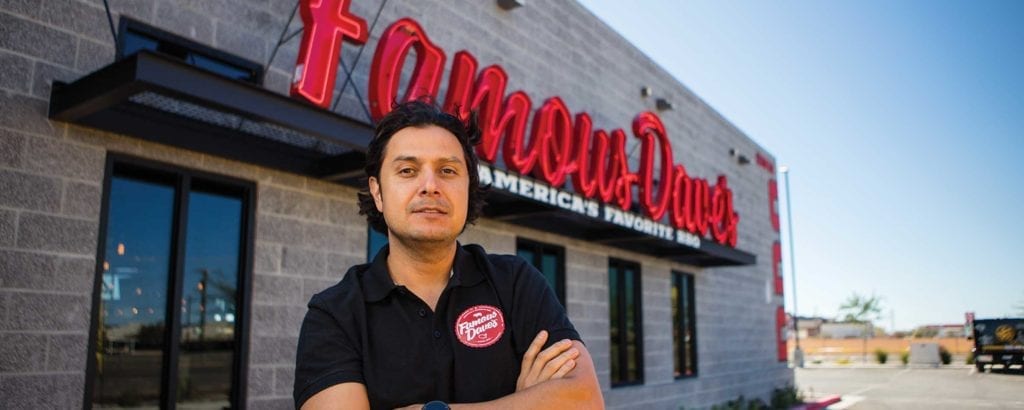 The Famous Dave's brand imprint reaches far beyond food, however. "Both Dave and his family have made huge philanthropic efforts, giving millions of dollars to work with Native American schools and at-risk youth in inner-city and rural areas," describes Jeff. "He's brought the management team to personal development seminars called Life Skills. Our general managers' tenure, at 10-years plus, is unheard of in this business".
Supporting Famous Dave's Restaurant Franchise Owners
"Unheard of" is exactly the phrase to describe how Famous Dave's helps its Franchise Owners succeed and gives back to the community. Dave and his brand strive to create new leaders, especially those from underprivileged backgrounds such as the one in which grew up. As we move into the new decade, brands need to source the next generation of leaders from all walks of life. Famous Dave's is proud to be leading this initiative.
This focus on new leaders is precisely what Dave Anderson emphasizes in his training program, something at which few other restaurant franchises partake. "I realized that if we were going to be successful, we had to grow people who genuinely believed they could be successful," remarks Dave.
"Our training program put the focus on people rather than the history and products. Most companies say, 'Here's our product line and our goal,' and they tap you on the butt and say 'Go get 'em, tiger.' We created leadership from the heart."
By putting its employees and Franchise Owners first, Famous Dave's does not only make its employees feel more valued. It helps to further spread its mission and ideals. Creating camaraderie between leaders and employees is something that many brands cannot do.
Famous Dave's Recipe for Restaurant Franchise Success
It's just this level of value and opportunity that Dave loves to invoke on every restaurant Franchise Owner that signs on with Famous Dave's. He embraces potential new leaders from all walks of life, regardless of experience. Franchise owner support is also crucial in Dave's model, as he wants to make sure that Franchise Owners have help with every step of the franchising process. This includes finding real estate, marketing, or training new employees. At the same time, he wants Franchise Owners to have the work/life balance that they need, realizing that one's work shouldn't consume their life.
"Leadership's been very focused around delivering for the franchise community. Where they're excelling currently is innovation, adapting to the current times." –Franchise Owner Allan Gantes 
Dave Anderson has done more than just make delicious barbecue. He has changed the way that people approach leadership. He has helped to prime underprivileged youth for success. He has created a successful restaurant franchise all by sticking true to the same values and recipes that have helped him throughout his whole life. It's no mystery that Dave's leadership recipe works, as the brand earned $2,541,587 in 2019, with the top-performing location grossing $6,247,854!* Now, with 5 exciting and scalable restaurant franchise models to choose from, including our all-new ghost kitchen concept, starting at just $80,500, Dave is looking to pass down his success to the next generation of Franchise Owners, whom he will rely on more than ever in 2021 and beyond! Visit our franchise website to find out how you can get in on the next generation of Famous Dave's restaurant franchise ownership!
---
To start a flexible career owning a franchise where you genuinely have your voice heard, visit our franchising site here.
*Numbers obtained from our 2020 FDD
Click here to pre-qualify for a Famous Dave's BBQ Franchise